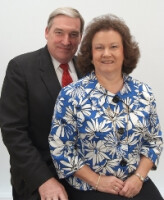 Pastor & Helen Griffin
Pastor
E-Mail:

Pastor Griffin came to us in March of 1978. Pastor, in faith, responded to God's call and came to pastor a small group of people. He did not even know what his salary was going to be when he came, yet he obeyed God. With a wife and three children, he left his home of Monroe, NC and came to Wilmington. Pastor felt God's call so strongly that he left his job as a manufacturing engineer with Eaton Corporation where he had worked for 15 years.
Pastor Arnold Griffin married Helen Cauthen on June 7, 1970. They have raised three sons, Gary, Matthew, and John. From these sons and their wives, they enjoy nine grandchildren.
Matthew 24:45 asks this question, "Who then is a faithful and wise servant, whom his lord hath made ruler over his household, to give them meat in due season?" When we consider Pastor Griffin, we believe he is such a man. God has a true servant in our pastor. May we all follow our pastor's example and be found "so doing" when our Lord returns.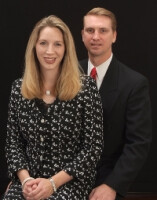 John & Amy Griffin
Assistant Pastor
E-Mail: